Looking to learn more about the latest features of CARTO's cloud native Location Intelligence platform?

Watch our quick-start training to learn the fundamentals of our exciting new release.

Whether you are an advanced user, or just starting out in spatial analysis, this training is a perfect introduction to the latest features available in the CARTO platform.

Follow Alex Tena (Product Manager at CARTO) and Álvaro Bachiller (Support Engineer) as they walk you through the key components of the platform such as how to connect to your

cloud data platform

,

enriching data

with 3rd party datasets,

running spatial analysis

and

creating stunning map visualizations

in Builder.


What you'll learn:
•

An introduction to the CARTO cloud native platform, its key components and the latest features shipped in Q2.
•

Using a real-life examples, learn the steps required to create an insightful map visualizations and analysis, including:

and use our embedded widgets.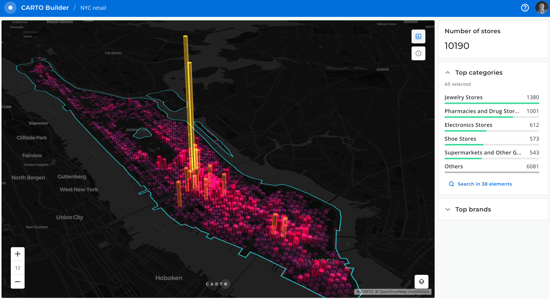 A PDF of the slides of the presentation is also available to download here.