A growing number of Retailers, Real Estate companies and local governments are now starting to include transaction insights as part of their spatial analysis process. Location Intelligence is moving beyond simply using POIs and foot traffic data to provide a superior understanding of consumer spending behaviour - and in this webinar we show how the latest release of the Mastercard Retail Location Insights solution can bring more granular insights to users.
Elina Greenstein (Director, Partnership Sales at Mastercard) and Paula Juliá (VP Solutions at CARTO) walk through key improvements such as:
- New industry insights

and how to understand spending behaviour with new categories such as accommodation, automotive, entertainment and grocery food stores.

- Improved indexes

to understand consumer behaviour including Total Account, Spend per Account and Average Frequency.

Exploring the value of greater

temporal granularity

for data analysts to understand consumer trends.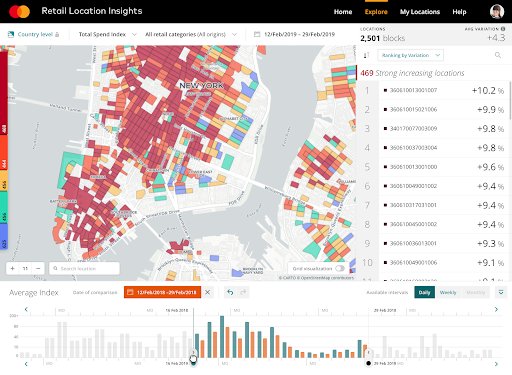 They also explore how Mastercard's insights can be used alongside other data streams such as environmental or traffic data from CARTO's Data Observatory to enrich your spatial modeling process.
A pdf of the slides of the presentation is also available to download here.