If you work in Retail Analytics at the moment, chances are you are looking at business challenges you have never encountered before. Using indoor mapping to gauge store capacity; identifying sites to convert to curbside pick-up locations or you may be considering an extensive consolidation strategy as part of the new normal (as Starbucks recently announced with 400 store closures soon to take place).
The decisions being made by Retailers today are make or break decisions - with household brands, millions of jobs and public health at risk, underlining the importance of doing so in a data-driven way with extensive spatial analysis.
In this webinar, we are joined by Matt Forrest (our Director of Spatial Data Science) and Steph Schober (now CARTO, previously CBRE) to discuss how Retailers can use predictive analytics for the short-term challenges ahead. You will learn:
- Which data streams Retailers are using to plan their return to the new normal, including COVID-19 related datasets.
- How to prepare your curbside conversion analysis and dashboards to share with decision-makers at your firm.
- What kind of insights can drive an efficient consolidation strategy for brands looking to reduce their brick & mortar presence and focus on omnichannel and BOPIS.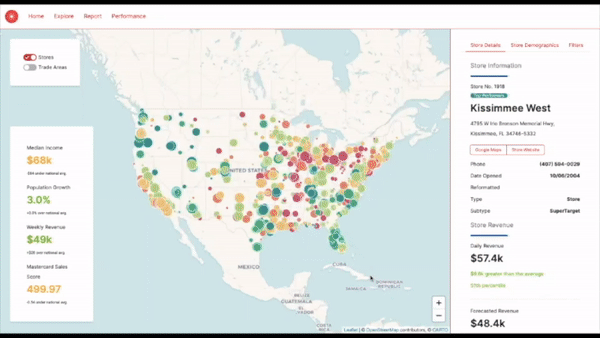 A PDF of the slides of the presentation is also available to

download here

.