From micromobility to last-mile delivery, mobility and transportation use cases are inherently geospatial. Whether you're planning expansion into a new city or territory or optimizing rider / fleet operations, mobility companies are turning to spatial analytics to find greater profitability in a time of rapidly rising costs and fluctuating consumer demand.
In this webinar, Oleksii Bielov (Product Manager, Snowflake) and Tomas Ehrenfeld (Solutions Engineer, CARTO) will give us a deep dive into how Snowflake & CARTO can help data professionals in the industry to drive better insights and decision-making using real-life examples.
You'll learn:
– How Snowflake's Data Cloud architecture can unlock geospatial processing at scale
– How to leverage spatial SQL for advanced location-based analytics
– How H3 and spatial indexes can be an effective solution for mobility use cases
– A hands-on Location Intelligence demo for a ride-hailing app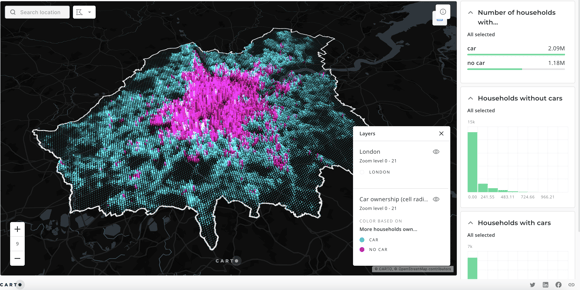 A PDF of the slides of the presentation is also available to download here.